"…I need something more real." One of my favorite scenes from Star Wars Episode I is the first meeting with Watto at his shop. Bartering for a used hyperdrive component, the heroes run into an age old problem: currency exchange.
Most often in my RPG games, money has been either the generic Gold, Silver, Copper coinage; or for the sci-fi theme, Credits, all tracked on a sheet of paper. Nothing actually changed hands. There were no "Watto moments" where an issue with payment lead to an adventure or series of encounters. I've always wanted to get some tangible, tactile money exchange into my game. Something the players could hold onto, something as Watto would say, is "real". However, such currency available to gamers in the past was either too expensive or of such low quality to be a vehicle for in-game jokes.
As in many things in today's gaming world: Enter Kickstarter.
Recently, we have seen some quality hobby gaming coin sets come up on Kickstarter. Myself being a long time a-wishin-and-hopin for such reasonably priced options have jumped at the opportunity and backed two such projects. The fruits of the first have recently arrived.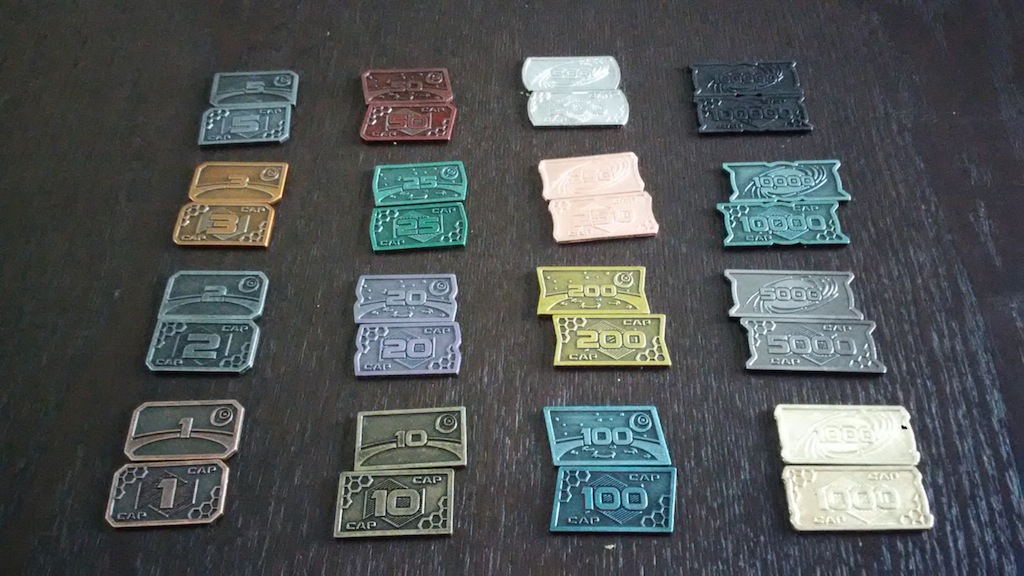 Future coins is designed to supply in-game currency for Minion Games 4x title Hegemonic. However, they can very much be used for any purpose. My primary use for these will be in my sci-fi RPG's, specifically Traveller and Star Wars: Edge of the Empire.
I was very pleased with the quality of the credit coins. The coloring, shading, and trim, is very well done. My only nitpick is the color for the highest denomination coin, 100,000, which looks black. The other denominations more than make up for this however, the shading between the raised text and the primary coin color give them a good depth and actually enhances the feeling of being a solid coin. There are both straight colors and metallics. For those of you who lust Ferengi-like after cold-pressed latinum, the 1,000 coin will more than satisfy.
If you are interested in picking up some of these for yourself and missed the Kickstarter campaign, not to worry, Minion has you covered and you can get your hands on some right here.
The other collection of coins I have jumped into is Conquistador Games Best Damn Metal Gaming Coins. This collection offers quite a bit of diversity in choice of era including Roman (my favorite), Spanish, Celtic and others, as well as fantasy and pirate themes. This particular kickstarter has not yet shipped, so if you are interested in picking some up it is possible that Conquistador or their partners in this project, Game Salute, will be selling additional coin sets later this year.