I recently had the opportunity to visit Snakes & Lattes Board Game Cafe in Toronto, Canada. The shop is a pioneer in the concept of a dedicated hobby game cafe that centers around game play while providing excellent food and refreshments to its patrons.
Snakes & Lattes is located on Bloor street in Korea town, I drove there from the Mississauga area and had a very easy time finding the store. If you are coming in to watch friends game or just to hook up with a new group and get in on some gaming yourself, there's a modest $5 cover charge. If you plan on ordering some food or drinks, or to buy a copy of a new title, the cover charge is waived.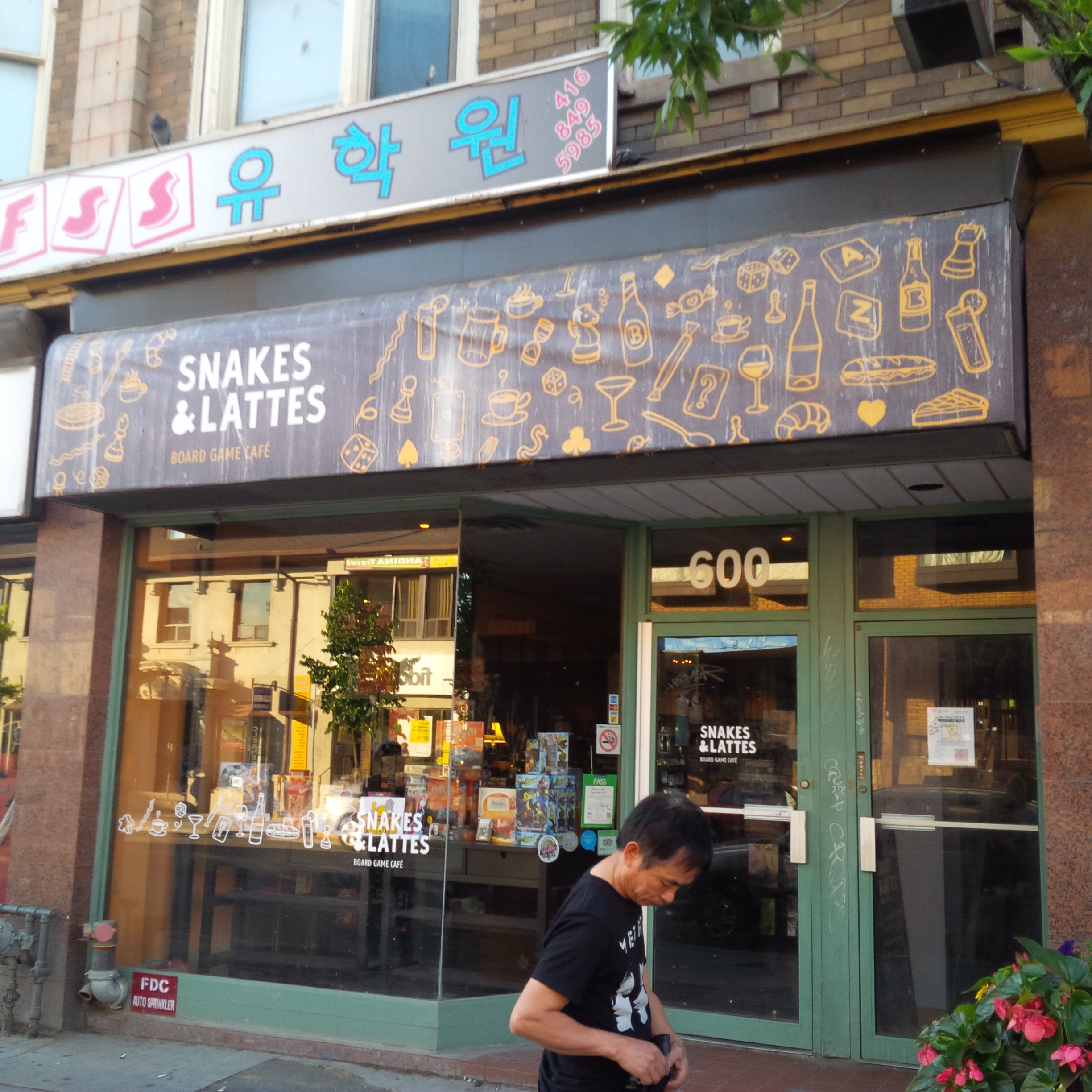 The interior of the shop is warm and welcoming, well organized with the right light to set the mood. To the immediate left is the sales counter which is attached to the small bar and food server. I was happily surprised to see a rather full house; various games were being played, food eaten and drink imbibed. The staff was friendly and helpful, immediately welcoming me and asking if I had been to the store before. After a brief exchange on the workings of the place I was informed that that evening was "designer's night" at the shop. Designers had brought in their prototypes for play testing and feedback. Was I in for a treat!
I looked around the gaming floor while I waited for the next designer's game to open up. The cafe has a well stocked board game collection with over twenty-five hundred titles available for use. This collection is always growing and the newer titles are always a hot commodity. I didn't see any duplicates, so if you have a favorite that you and your group are intent on playing, make sure you get a stake on it or have a second choice in mind.
It wasn't too long before one of the store employees pointed me over to an open player position for an unreleased game in play testing. I joined in with three other players one of whom was the designer. The game used worker placement and a bidding mechanism to simulate the job market. It was a great opportunity to see how the creative mind of a designer works by the questions he would ask of the players and the feedback he recorded at the end. If you have any opportunity to attend a designer's night, I highly recommend it, particularly if you are interested in the game development process.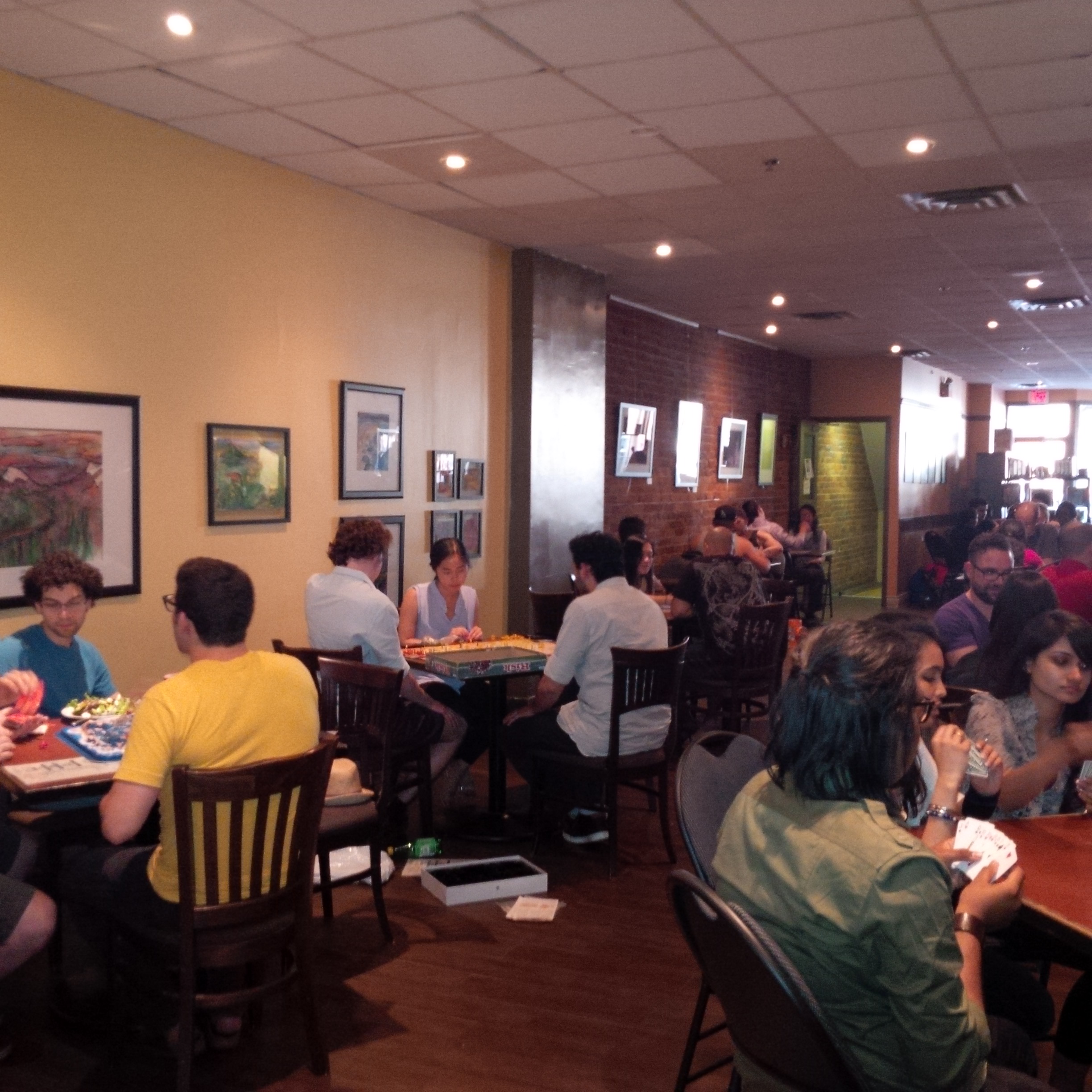 As for my experience with the food at Snakes & Lattes, I had a chicken salad sandwich and garden salad. Both were fresh and tasty. The service was easy and actually made the entire experience better; I placed my order at the bar and the food was brought to the gaming table. We were checked on several times by the staff and could refill our drinks as needed. At the end of the night I cleared up my running tab at the bar, stopped by the store area and picked up a new copy of Augustus to bring back to the states.
I left the shop thinking what a brilliant concept I had just experienced. As a long time gamer I have played at tournaments under bright florescence, at unsavory game stores awash with screaming adolescents, in inconvenient libraries and garages, and a dozen other less than adequate venues. This was truly my first gaming experience set in a location dedicated and designed to make the gamer feel comfortable, valued, and just as you would feel playing at a good friends home. Now, hearing all of the above you might wonder why this type of establishment isn't more common. Given the growing popularity of board games and the recent resurgence in general hobby gaming activities, I think we will be seeing more of these board game cafe's spring up. Actually, not to far up the road from me in Orlando, Florida, there is a nascent board game venue just about to sprout. Cloak and Blaster is being established as a gaming pub with an extensive tap, board game library, video gaming lounge, and a comfortable place to get your geek on. It's scheduled to open its doors in 2014.
If you are anywhere near Toronto and enjoy hobby gaming, you must drop by and spend some time at Snakes & Lattes. I know you will not only be pleased, but most likely delighted; and if you are lucky enough to live nearby, I wager you will make them a regular feature in your gaming lifestyle. If, like me, you only have the opportunity to visit during a business trip or when other travel takes you through Toronto, check out the possibility of a similar venue opening up near you. If you live in a major city you may find that the renaissance in hobby gaming will bring forth its fruits to your hometown, and a board game cafe, tavern, or pub will be opening near you.