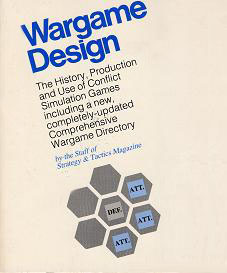 The vaporous tendrils of design run deep in all we do. Every gamer at one point or another smells it, breathes it in. Sometimes it's the quick sniff while other times it is a deep inhalation.
When you momentarily see a way to improve upon a game mechanism, that's when it comes to you. When you play a game and have an overpowering desire to throw out the entire rules set and write your own, there it is again. Different measures of intensity, but from the same source: the innate desire to make things better.
By large and small, from decades of gaming experience, I find that hobby gamers are creators. They want to tinker, construct, test, watch it fall apart and watch it work. I think, it's an element of why we play games to being with, to be a part of it all unfolding and get that satisfaction of a conclusive end to a series of decisions and events. Game play in itself is an act of creation.
And from those basic shared elements, there is a bit of a designer in all of us. From the earliest days it peeks out. My first wargame, Napoleon: The Waterloo Campaign, a block game, inspired my young self to use red and blue legos to represent British and French infantry lines. The more pips on the block the more troops in the unit. I came up with my own rules to fight the battles. Those rules, as primitive and unpublishable as they were, were the earliest manifestation of an innate design gene.
Over the many intervening years I have designed for myself and my friends, a few times I put in the extra work to create something others could play. One example being my Print-and-Play (PnP) title Doubloon Lagoon. The amount of additional work to move from a personal design to a quality product other gamers can enjoy is not trivial. This is fact: to publish a quality product is a lot of work in comparison to a homebrew design. This includes PnP as well. Knowing the nature of the work involved in moving a design from its initial stages to final product, I held off any further attempts after Lagoon. I am now ready to dive back in.
About ten months ago I began researching material for a game in a genre I have long loved. Wargaming is at the core of my being, from those early days onwards, regardless of all of the other types and forms of games I have played and come to love, wargaming is where my heart lies. I wanted to wait a while before I said anything publicly about this project for a couple reasons. I wanted to make sure I could keep up the effort on it; and secondly, due to the very large scope and size of the project, I wanted to get a certain way through the initial stages to grow confidence it could be accomplished.
I feel I am at that point now. My plans, as optimistic as they are, will be to publish this game under my own label for reasons I will expound upon in the coming months. I am excited and growing more so as I see design, art, and graphics come together for this game. As I go through the process I want to share my experiences, thoughts, trials and challenges. I want to establish a rationale for what I will attempt. I hope it will be interesting and enlightening to others who will follow.