It's vacation time! A time for rest, relaxation, and reflection. Of course for the BattlePlay team that also involves gaming; whenever we are out of our normal stomping grounds we take the opportunity to seek out and explore local geek culture spots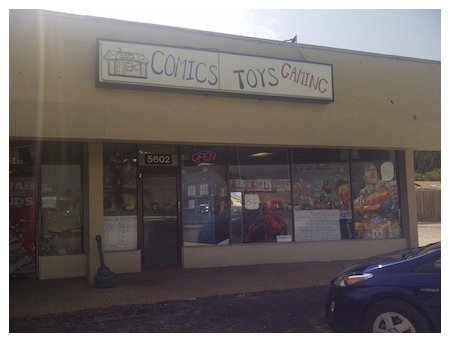 and maybe find a new board game or two. Not far from where we are now lies the west Florida town of Bradenton, location of the spring training camp of the Pittsburgh Pirates and the home of tennis legend Maria Sharapova. As cool as it is that this small town has that much celebrity bling, there is another cool place for magic players and comic readers to gather and play. The Comic Shack is the singular place in Bradenton to buy comics, browse the latest graphic novels, stock up on the recent Magic: The Gathering expansion and check out the latest super hero maquettes. The store is modest in size but well organized. The staff that we met, Derrick and Mark, were friendly and helpful. Comic readers who set up a subscription will be well rewarded with up to a 30% discount. Dr. Who fans will be impressed at the selection of figures and toys and HeroClix players will be well taken care with expansions and singles.
Their board game selection was small and definitely an area where they have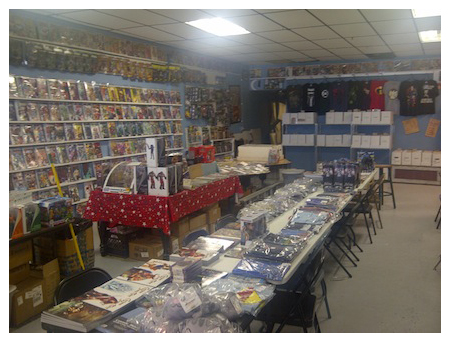 opportunity to expand. Being the self titled "sanctuary for geeks" in Bradenton, The Comic Shack could easily position themselves as the center of the board game universe here and give players a place to meet and shop without having to travel north to St. Petersburg and Tampa to get their fix. They are starting to make inroads on this with their "Classic Board Games on Thursdays" event, featuring Risk, Stratego, Chess and throwing in a little Zombies!!! for good measure. I hope they keep this up!
If you are a geek-resident of the area and haven't dropped in, what are you waiting for? If you find yourself on a beach vacation or traveling through the area, take a moment to stop in, The Comic Shack will have the reading material and cool stuff to keep you entertained on your travels.